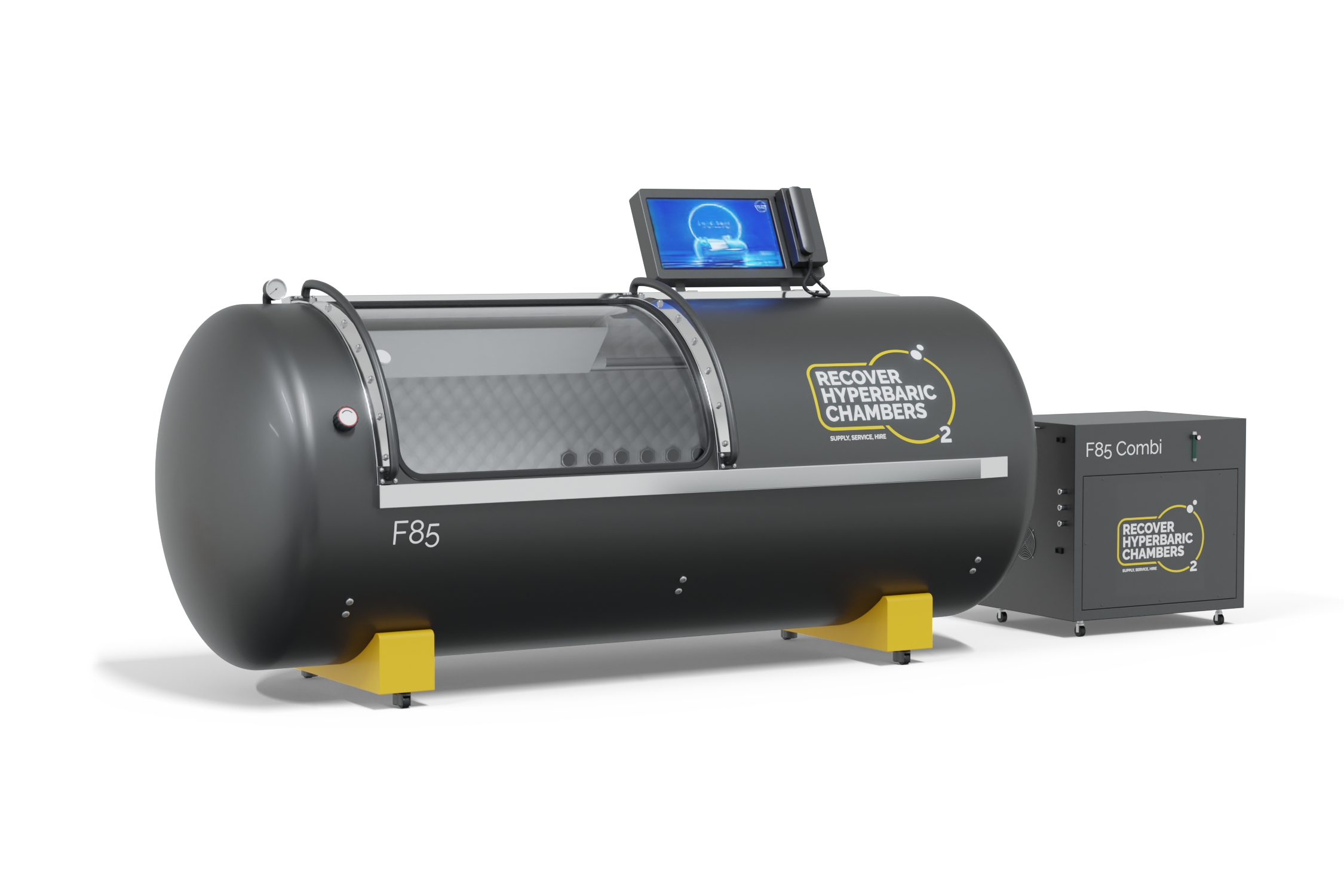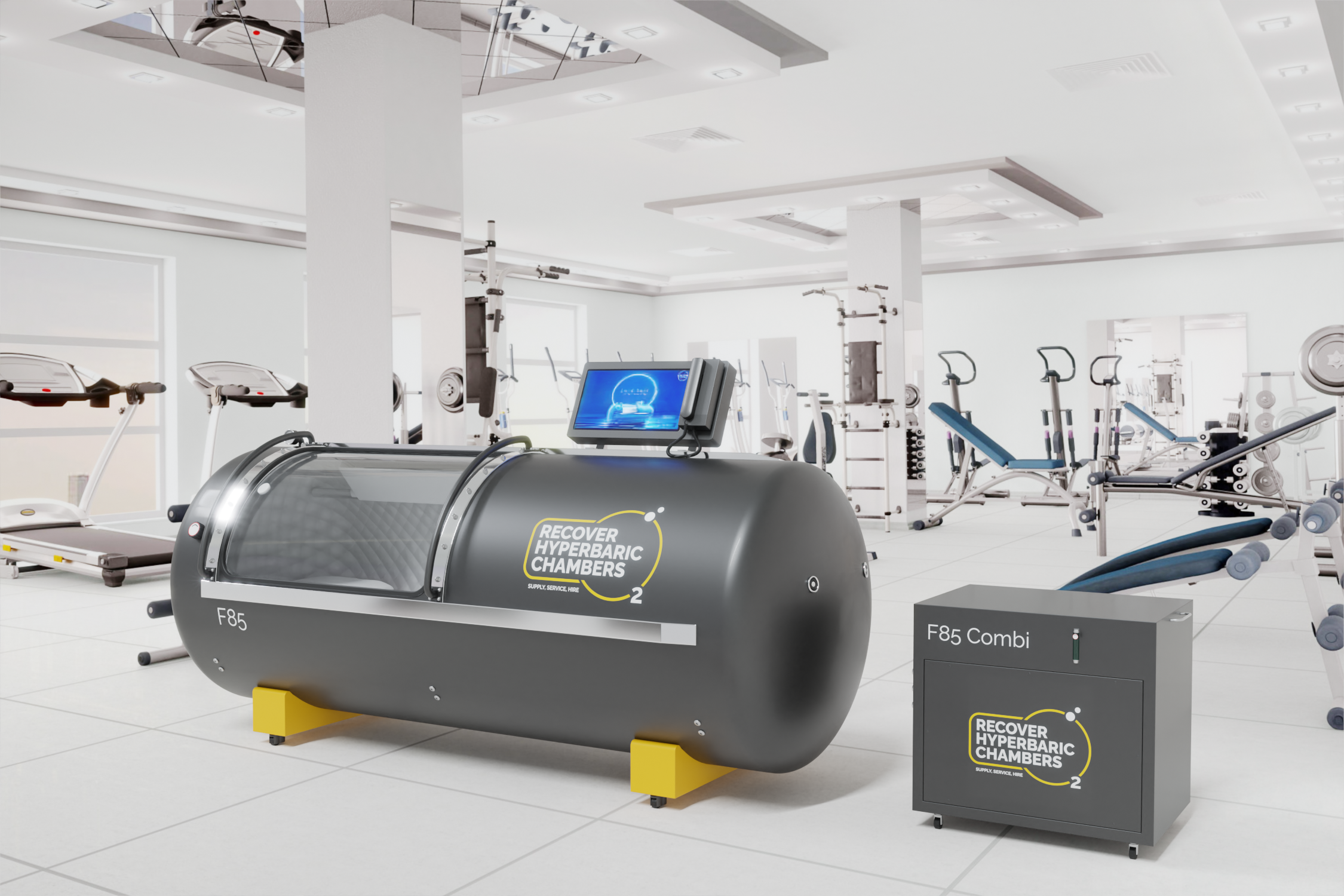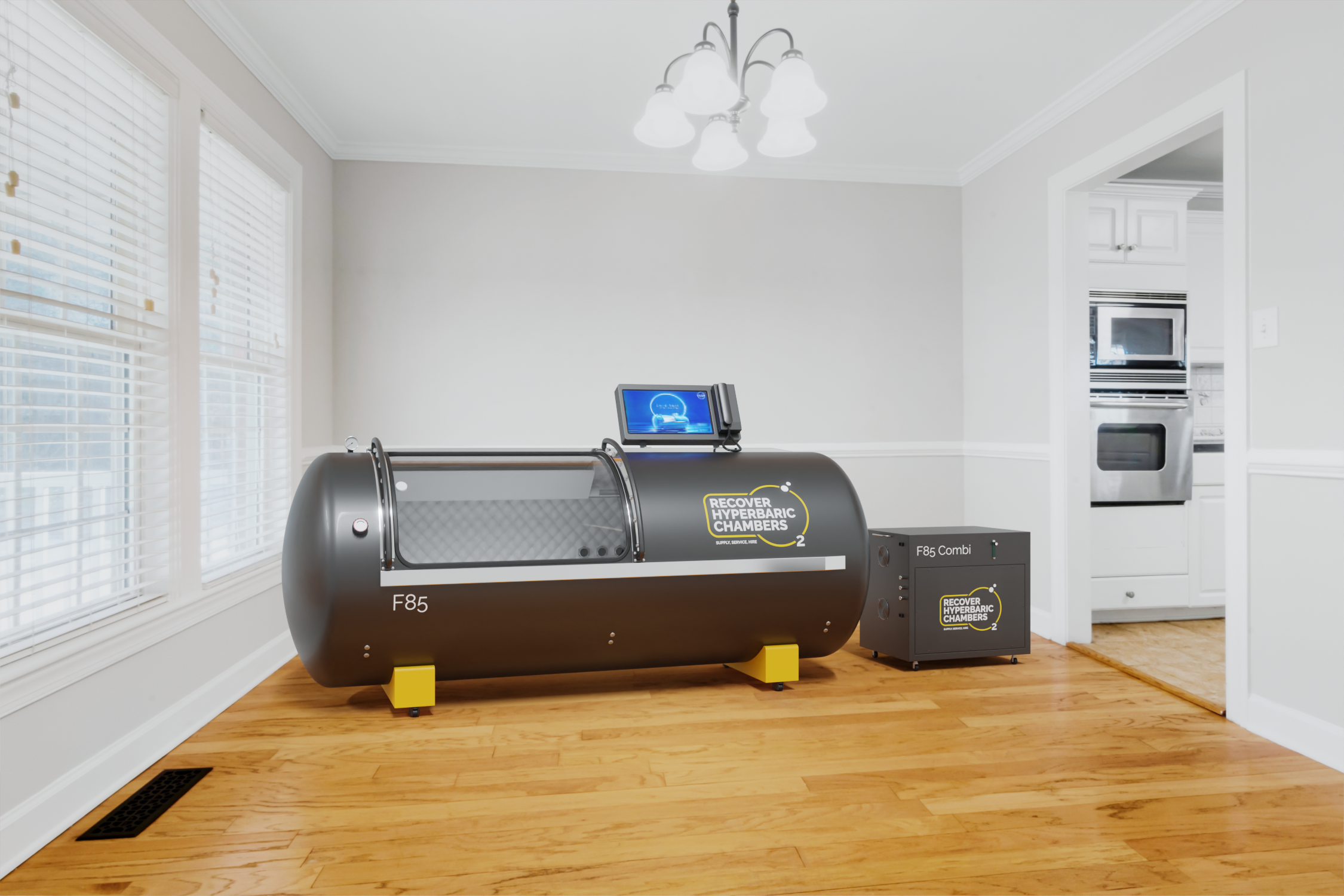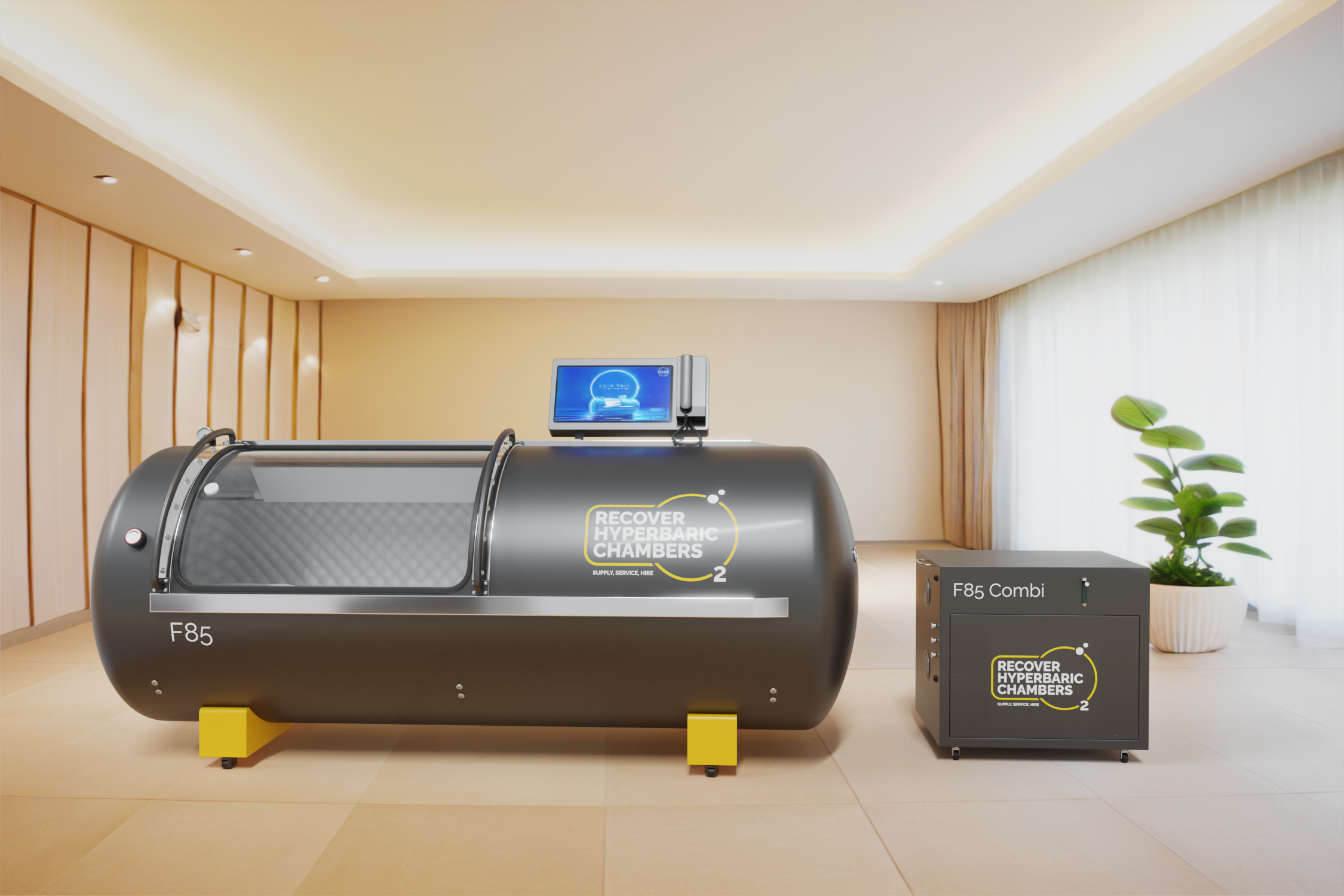 Hyperbaric Chamber Ireland | Recover F85 Steel Chamber
---
The Recover F85 Steel Hyperbaric Chamber. Our finest steel model, is engineered with utmost precision to offer an unparalleled hyperbaric experience. Notably, it features a seamless sliding door for easy access, and operates at a pressure of 2ATA 14.7psi. This makes it an ideal choice for both personal and professional use, ensuring effortless installation and operation.
Key Features
85cm fixed HBOT chamber with optimal 2 ATA/14.7psi operating pressure, enhancing hyperbaric chamber benefits.
Advanced control system, including a compressor, oxygen concentrator, dehumidifier, and cooling unit for the hyperbaric oxygen chamber.
96%+ oxygen under pressure delivered through a comfortable face mask which is optional.
Advanced touch screen control and display -  internal and external
Two-way communication via an intercom phone system and reading light for relaxation during hyperbaric oxygen therapy
With the automatic air pressure control system, moreover, you can rest assured that our studio or home hyperbaric chamber ensures a secure seal and creates an ideal healing environment.
Spacious viewing window for an enjoyable therapy experience 
Customizable options such as Bluetooth connectivity, cinema, and audio systems available upon request in our portable HBOT chamber.
Certified Quality
Adhering to the highest standards, furthermore, all of our chambers are meticulously produced in ISO9001, ISO14001, and ISO13485 certified facilities. Moreover, every hyperbaric chamber designed for use in the UK and Ireland is compliant with UKCA or CE, as shown by their Declaration of Conformity.
Complete Package Includes
85cm fixed hyperbaric chamber with 2 ATA/14.7psi operating pressure.
Antibacterial cotton & bamboo memory foam mattress
Combined high performance compressor, pure oxygen concentrator, dehumidifier, and cooling unit providing oxygen rich air for our hyperbaric oxygen chambers.
Control panel and intercom system.
All chambers are supplied with template risk assessments, operating procedures, and onsite training for seamless setup and use in the UK & Ireland. International orders include a document pack and installation video supported by a training webinar.
Safety & Comfort - Our Top Priority
Our company prioritizes your safety and comfort during hyperbaric oxygen therapy by offering the following features:
Gradual pressurization for a comfortable therapy experience in our hard shell hyperbaric chamber.
Emergency alarm control to alert staff if assistance is needed during hyperbaric therapy.
With seamless efficiency, the Recover F85 Steel Hyperbaric Chamber allows for swift depressurization. Using the emergency pressure relief valve in under 45 seconds. This ensures a safe and comfortable experience, allowing you to exit the chamber smoothly and efficiently.
Intercom phone system for seamless communication with staff during sessions in our hyperbaric oxygen therapy chamber.
Our unique sliding door design facilitates effortless transitions into and out of our chamber, ensuring a smooth and comfortable start and finish to your hyperbaric therapy sessions.
In terms of autonomy, you will have full control over all chamber features without the need for supervised assistance. This includes the ability to monitor pressure levels both inside and out, ensuring a seamless and safe hyperbaric experience.
Optional air conditioning for added comfort during therapy, especially in hot and humid areas.
Emphasizing transparency, we adhere to a clear and upfront hyperbaric chamber price policy, displaying all cost and delivery information at checkout.
Moreover, for a deeper insight into the transformative benefits of HBOT therapy and oxygen treatments, we recommend a visit to our video section.
Are you eager to unlock the remarkable benefits of a hyperbaric chamber in locations such as London, Dublin, or anywhere across the UK and Ireland? Please take a moment to browse through our enticing store or informative blog, where you can select the "hyperbaric chamber near me" option.
Shipping Policy - https://recoverhyperbaricchambers.com/policies/shipping-policy
Returns Policy - https://recoverhyperbaricchambers.com/policies/refund-policy
Compare
Product specification
Give your customers useful information about your products and showcase differences between them.
Size
Length=220cm(88inch)
Diameter:75cm(30inc)
Length:220cm(88inch)
Diameter:85cm(34inch)
Length:220cm(88inch)
Diameter:100cm(39inch)
Auxiliary Equipment
Combined System
80L/m Air Compressor
1-10L/m Oxygen Concentrator
Air Dryer
Combined System
80L/m Air Compressor
1-10L/m Oxygen Concentrator
Air Dryer
Combined System
80L/m Air Compressor
1-10L/m Oxygen Concentrator
Air Dryer
This product has no reviews yet.
Increases the amount of oxygen carried in the blood stream, enabling more oxygen to dissolve deep into our tissues, lymphatics, and the cerebrospinal fluid surrounding the brain and spinal cord.
Stimulates the growth of new blood vessels

Stimulates the growth of new blood vessels in the body, which increases circulation, allowing revitalized tissue to thrive even after the treatment protocol has been completed
Increases the production of superoxide dismutase

Increases the production of superoxide dismutase, one of the body's natural antioxidants and free radical scavengers, which increases the ability of the body to fight disease and infection
Reduces inflammation and swelling, strengthens the immune system, stimulates the release of stem cells, and enhances mitochondrial function and regeneration
What is Hyperbaric Oxygen Therapy:
What is Hyperbaric Oxygen Therapy
Important
Notice
None of these statements about Hyperbaric Oxygen Therapy have been evaluated by The National Institute for Health and Care Excellence (NICE).
This information is not intended to diagnose, treat, cure or prevent any disease. Furthermore, none of the statements should be construed as dispensing medical advice, making claims regarding the cure of diseases, nor can these products or therapies prevent or cure
any disease state.
You should consult a registered health care professional before starting any health protocol or therapy, especially if you are pregnant or have any pre-existing injuries, transplants, or medical conditions. Hyperbaric Oxygen Therapy should not be considered a substitute for medical care advised by a medical professional. In the UK a registered medical practitioner is one who is listed in the General Medical Council List of Registered Medical Practitioners.